Mafia Trilogy Steam CD Key EU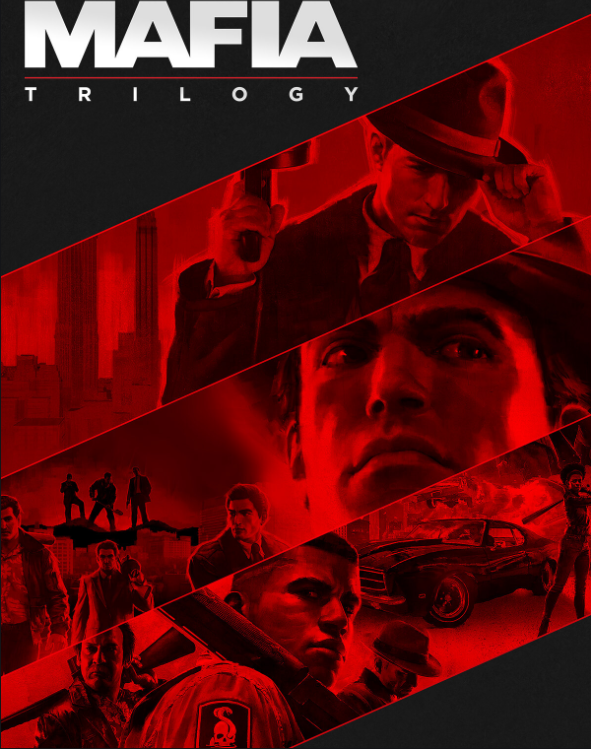 Mafia Trilogy Steam CD Key EU
Nowy Gorący
Note: This product can be activated in EU ONLY!!
Mafia: Definitive Edition
Re-made from the ground up, rise through the ranks of the mafia during the Prohibition-era. After an inadvertent brush with the mob, Tommy Angelo is reluctantly thrust into the world of organized crime. Initially uneasy about falling in with the Salieri family, the rewards become too big to ignore.
Live the life of a Prohibition-era gangster and rise through the ranks of the Mafia.
Recreated 1930's cityscape, filled with interwar architecture, cars and culture to see, hear and interact with.
Faithfully recreated, with expanded story, gameplay and original score. This is the Mafia you remembered and much more.
Mafia II: Definitive Edition
Remastered in HD, live the life of a gangster during the Golden-era of organized crime. War hero Vito Scaletta becomes entangled with the mob in hopes of paying his father's debts. Alongside his buddy Joe, Vito works to prove himself, climbing the family ladder with crimes of larger reward, status and consequence.
Inspired by iconic mafia dramas, be immersed in the allure and impossible escape of life as a wise guy in the Mafia.
Post-World War II Empire Bay, NY, a city sprawling with opportunity and where organized crime thrives on the booming industries of post-war America.
The Complete & Remastered Favorite:
For the first-time ever experience the Mafia II crime drama all in one package and presented in stunning HD detail.
Mafia III: Definitive Edition
After years of combat in Vietnam, Lincoln Clay's surrogate family, the black mob, is betrayed and killed by the Italian Mafia. Lincoln builds a new family on the ashes of the old, blazing a path of revenge through the Mafioso responsible.
Includes main games and DLC releases.
A vast world ruled by the mob and detailed with the sights and sounds of the era
Be Lincoln Clay, orphan and Vietnam veteran hell bent on revenge for the deaths of his surrogate family
Choose your own play-style; brute force, blazing guns or stalk-and-kill tactics, to tear down the Mafia
A NEW FAMILY ON THE ASHES OF THE OLD:
Build a new criminal empire your way by deciding which lieutenants you reward, and which you betray
Whokeys.com is a reliable and competitive online retail store that provides a wide variety of popular game products on all platforms, all kinds of gift cards and other software products. Purchase our products that we got from formal sources. Furthermore, Whokeys will keep updating our stock with everything you need.
Platforma

Region

tagi

RPG

Zasoby

W magazynie

Original Price

PLN 275.83

Discount

-27%

Present Price

PLN 200.42

Earn Up to PLN 16.03
Zamknij

Witamy na stronie logowania whokeys.
Adres email

Hasło

Czy zapomniałeś hasła?
Nie jesteś jeszcze zarejestrowany?
Sign Up Now
Zaloguj się za pomocą konta osoby trzeciej:
Open the whokeys APP
Scan The code to login
Zamknij

Zapraszamy do rejestracji na whokeys
Adres email *

Please enter a valid Email.

Hasło*

6 to 16 letters, numbers, and special characters.

Potwierdź hasło*

Imię* Nazwisko*

Przeczytałem i zgadzam się na

Subskrybuj oferty, konkursy i biuletyn whokeys
Czy posiadasz już konto na whokeys?
Zaloguj się teraz
Zaloguj się za pomocą konta osoby trzeciej
Zamknij
Prompt T698563:
The programe has been successfully submitted to the system
Zamknij
Prompt T698563:
The programe has been successfully submitted to the system
Zamknij
Prompt T698563:
The programe has been This is a warning ?
Zamknij

Successful Registration

Welcome ! You have successfully signed up to be an whokeys member.
Close

Verificação de Segurança
A new item has been added to your Shopping Cart.
Może także polubisz