Age of Empires III: Definitive Edition Steam CD Key Global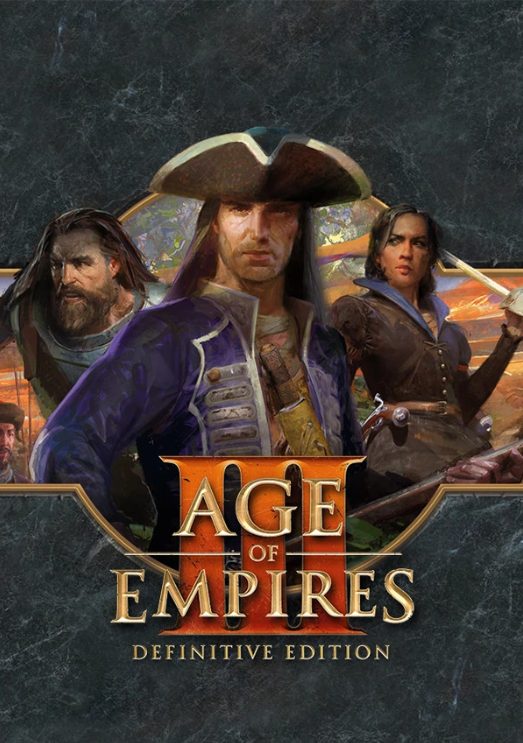 Age of Empires III: Definitive Edition Steam CD Key Global
Age of Empires 3: Definitive Edition is the remastered version of the real-time strategy game, created by Forgotten Empires, the studio known for remasters of the two previous installments of the AoE series. The developers focused on recreating the classic AoE 3 experience with a number of updated and enhanced features, including 4K Ultra HD graphic support, a remastered soundtrack, as well as modernized user interface providing better gameplay experience.
Classic Age of Empires gameplay, modernized for today's standards
While creating the Age of Empires 3 Definitive Edition, the developers focused on maintaining the 'feel' of the classic AoE 3 gameplay. Players have an opportunity to become the leader of one of 14 playable civilizations and guide them throughout times. During the gameplay, players will have to gather essential natural resources needed for the development of the settlements, explore undiscovered lands, take care of economics, and sometimes use force to solve conflicts with other nations.
At the beginning of the adventure, the player starts as a leader of a small village. Later on, the said village will grow and eventually become a huge metropolis. Killing enemy units, training new troops, establishing new settlements provide experience points - those at a certain level give players useful bonuses like special building, units, etc. In the game, the Player progress through Ages - subsequent time periods provide more advanced technological improvements, buildings, and units, characteristic for certain times. Among the Ages present in the game we can find Discovery Age, Colonial Age, Fortress Age, Industrial Age, and Imperial Age. Each of them offers different experiences and priorities.
Engaging single-player campaign
The game features an immersive single-player campaign divided into three separate acts picturing the times of North and South America colonization. Each act tells the story of a fictional Black family history narrated by Amelia Black. It is worth mentioning that AoE 3: Definitive Edition includes two expansion packs - The WarChiefs, focused on American Indian tribes, and The Asian Dynasties, introducing players to the culture of the Far East. Expansion packs include new fractions, buildings, and units.
Fully Remastered Age of Empires experience
AoE: Definitive Edition is fully adjusted for today's powerful machines. The game supports high definition resolutions, including Ultra HD 4k and the graphics have been significantly improved in general. The game features fully supported multiplayer mode - now it is possible to have more than two teams in a multiplayer match.
Additionally, the developer prepared three different user interface layouts, to make it suitable for a wider range of players. Besides visual improvements, the game has been enriched with the new Art of War challenges, two new civilizations, and some changes to Native American tribes. What is worth mentioning, AoE 3: DE files system has been modified, in order to make creating mods easier. Modifications created by the AoE community can significantly change the gameplay experience, and prolong the game's longevity in general. As a bonus, developers from Forgotten Empires provided us with a totally renewed soundtrack.
Key Features
Enjoy one of the best RTS games in history, in a totally new edition
Two expansion packs included - The Asian Dynasties and The WarChiefs
Modernized multiplayer mode
Full mods support, providing a unique gameplay experience
High definition resolution support, including Ultra HD
Whokeys.com is a reliable and competitive online retail store that provides a wide variety of popular game products on all platforms, all kinds of gift cards and other software products. Purchase our products that we got from formal sources. Furthermore, Whokeys will keep updating our stock with everything you need.
Platforma

Region

tagi

FTG

Zasoby

W magazynie

Original Price

PLN 137.89

Discount

-57%

Present Price

PLN 59.73

Earn Up to PLN 4.78
Zamknij

Witamy na stronie logowania whokeys.
Adres email

Hasło

Czy zapomniałeś hasła?
Nie jesteś jeszcze zarejestrowany?
Sign Up Now
Zaloguj się za pomocą konta osoby trzeciej:
Open the whokeys APP
Scan The code to login
Zamknij

Zapraszamy do rejestracji na whokeys
Adres email *

Please enter a valid Email.

Hasło*

6 to 16 letters, numbers, and special characters.

Potwierdź hasło*

Imię* Nazwisko*

Przeczytałem i zgadzam się na

Subskrybuj oferty, konkursy i biuletyn whokeys
Czy posiadasz już konto na whokeys?
Zaloguj się teraz
Zaloguj się za pomocą konta osoby trzeciej
Zamknij
Prompt T698563:
The programe has been successfully submitted to the system
Zamknij
Prompt T698563:
The programe has been successfully submitted to the system
Zamknij
Prompt T698563:
The programe has been This is a warning ?
Zamknij

Successful Registration

Welcome ! You have successfully signed up to be an whokeys member.
Close

Verificação de Segurança
A new item has been added to your Shopping Cart.
Może także polubisz