The Outer Worlds Epic Key EU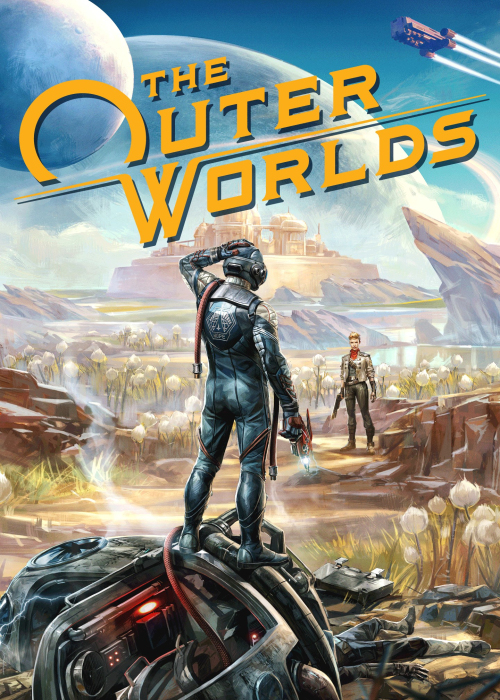 The Outer Worlds Epic Key EU
Nowy
Release Date: 10/25/2019, Welcome to order.
Opis produktu
The Outer Worlds is a new single-player first-person sci-fi RPG from Obsidian Entertainment and Private Division.
Lost in transit while on a colonist ship bound for the furthest edge of the galaxy, you awake decades later only to find yourself in the midst of a deep conspiracy threatening to destroy the Halcyon colony. As you explore the furthest reaches of space and encounter various factions, all vying for power, the character you decide to become will determine how this player-driven story unfolds. In the corporate equation for the colony, you are the unplanned variable.
The player-driven story RPG: In keeping with the Obsidian tradition, how you approach The Outer Worlds is up to you. Your choices affect not only the way the story develops; but your character build, companion stories, and end game scenarios.
You can be flawed, in a good way: New to The Outer Worlds is the idea of flaws. A compelling hero is made by the flaws they carry with them. While playing The Outer Worlds, the game tracks your experience to find what you aren't particularly good at. Keep getting attacked by Raptidons? Taking the Raptiphobia flaw gives you a debuff when confronting the vicious creatures, but rewards you with an additional character perk immediately. This optional approach to the game helps you build the character you want while exploring Halcyon.
Lead your companions: During your journey through the furthest colony, you will meet a host of characters who will want to join your crew. Armed with unique abilities, these companions all have their own missions, motivations, and ideals. It's up to you to help them achieve their goals, or turn them to your own ends.
Explore the corporate colony: Halcyon is a colony at the edge of the galaxy owned and operated by a corporate board. They control everything... except for the alien monsters left behind when the terraforming of the colony's two planets didn't exactly go according to plan. Find your ship, build your crew, and explore the settlements, space stations, and other intriguing locations throughout Halcyon.
Whokeys.com is a reliable and competitive online retail store that provides a wide variety of popular game products on all platforms, all kinds of gift cards and other software products. Purchase our products that we got from formal sources. Furthermore, Whokeys will keep updating our stock with everything you need.
Original Price

PLN 260.05

Discount

-26%

Earn Up to PLN 15.43
Platforma

Region

tagi

RPG

Zasoby

W magazynie
Zamknij

Witamy na stronie logowania whokeys.
Adres email

Hasło

Kod weryfikacyjny

Czy zapomniałeś hasła?
Nie jesteś jeszcze zarejestrowany?
Sign Up Now
Zaloguj się za pomocą konta osoby trzeciej:
Open the whokeys APP
Scan The code to login
Zamknij

Zapraszamy do rejestracji na whokeys
Adres email *

Please enter a valid Email.

Hasło*

6 to 16 letters, numbers, and special characters.

Potwierdź hasło*

Imię* Nazwisko*

Kod weryfikacyjny

Przeczytałem i zgadzam się na

Subskrybuj oferty, konkursy i biuletyn whokeys
Czy posiadasz już konto na whokeys?
Zaloguj się teraz
Zaloguj się za pomocą konta osoby trzeciej
Zamknij

Zapomniałem hasła
Wprowadź e-mail
Uwierzytelnienie tożsamości
Zresetuj hasło
Hasło zostało zmienione
Account:

Kod weryfikacyjny będzie wysłany do:

Kod weryfikacyjny:

Nowe hasło::

Potwierdź nowe hasło::
Zamknij
Prompt T698563:
The programe has been successfully submitted to the system
Zamknij
Prompt T698563:
The programe has been successfully submitted to the system
Zamknij
Prompt T698563:
The programe has been This is a warning ?
Zamknij

Successful Registration

Welcome ! You have successfully signed up to be an whokeys member.
Close

Verificação de Segurança